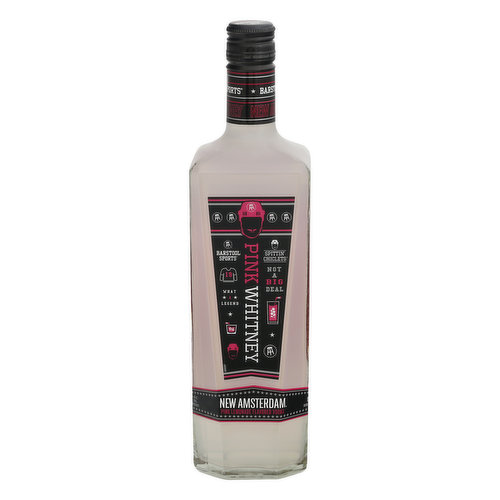 10% off with purchase of any six 750ml, 1L, or 1.75L bottles of spirits
New Amsterdam Vodka, Pink Whitney, 750 Millilitre
10% off with purchase of any six 750ml, 1L, or 1.75L bottles of spirits
Age restricted item
You must be at least 21 years of age to purchase. You will be asked to show your ID at time of pickup/delivery
Sale Information
Sales price valid from 7/2/21 until 8/2/21
10% off with purchase of any six 750ml, 1L, or 1.75L bottles of spirits
Sales price valid from 1/1/21 until 1/1/22
Cheers to Savings!
Description
Pink lemonade flavored vodka. Barstool sports. Spittin chiclets. What a legend . Not a big deal. 5x distilled. The spittin chiclets crew has taken over New Amsterdam vodka to create a spirit inspired by Ryan Whitneys favorite drink award-winning New Amsterdam vodka mixed with fresh pink lemonade. The result is an exceptionally smooth. Great-tasting pink lemonade flavored vodka. Certified color added. newamsterdamspirits.com. Contact Us: 877-879-2446. 30% alc by vol. 60
Product Number: 00085000029626
Sale Information
Sales price valid from 7/2/21 until 8/2/21
10% off with purchase of any six 750ml, 1L, or 1.75L bottles of spirits
Sales price valid from 1/1/21 until 1/1/22
Cheers to Savings!
Description
Pink lemonade flavored vodka. Barstool sports. Spittin chiclets. What a legend . Not a big deal. 5x distilled. The spittin chiclets crew has taken over New Amsterdam vodka to create a spirit inspired by Ryan Whitneys favorite drink award-winning New Amsterdam vodka mixed with fresh pink lemonade. The result is an exceptionally smooth. Great-tasting pink lemonade flavored vodka. Certified color added. newamsterdamspirits.com. Contact Us: 877-879-2446. 30% alc by vol. 60
Product Number: 00085000029626